It seems a little trivial to be writing this considering my last post however i'm sure we're all doing our own bit to help the poor people of Haiti --  so here goes.
Earlier this week when i spotted this little lovely vintage sewing box (complete with loads of embroidery threads and 3 wooden embroidery hoops) in a local charity shop for just £15!. I saw it, cooed over it, said to little Ava how lovely it was (despite her confused expression) and then put on my sensible head and walked out of the shop without buying it saying to myself "no i don't need it - i'm meant to be having a big spring clean". Then we went home had lunch and all the while this little voice kept saying "buy me, buy me or you'll regret it FOREVER !! And so like a possessed woman i grabbed the phone and called the shop hoping no one else had spotted this little beauty as i new if it had gone i would definitely have been kicking myself for a long long time.
Thankfully it was still there and in the blink of an eye i was back in the shop feeling pretty chuffed with myself as i handed over my cash. I managed to placate the other half (who really doesn't understand the thrill of finding such things) by saying that i really needed it for organizing my stuff and that i'll eventually sell it on (ahem little white lies never hurt!) which seemed to do the trick!
Some of my friends have found some wonderful vintage pieces at charity shops over the years and yet they seem to escape me - untill now - mind you i did find this great little table cloth before Christmas which gave my sister table cloth envy.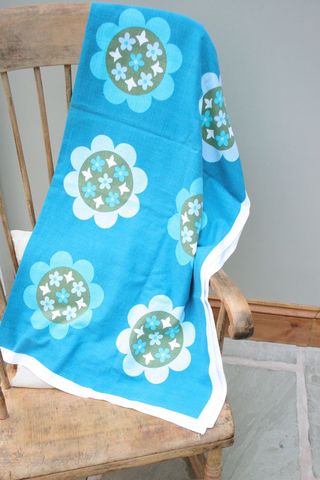 Happy hunting x